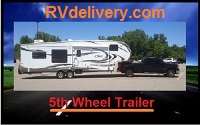 5th Wheel Towing and Transport
Licensed/Bonded and Insured
800-462-0038
If you are looking for a company to tow your 5th wheel trailer safely, you are at the right place. Showroom Transport has been in business since 1994. We ship an average of 400-500 5th wheels a year all over the USA. Our drivers go through extensive training Most of our drivers have years and years of experience. Most of our drivers have commercial drivers license to legally move the very heavy type 5th wheel rv camper trailers.
Top 2 reasons why do people use our service to pull their 5th wheel?
1. They purchased their 5th wheel from a location far away that made it more economical to hire a company like us to tow their 5th wheel rv camper trailer.
2. They do not have a truck that can pull a 5th wheel rv trailer.
Whatever the reason is, our drivers will do a great job shipping your 5th wheel anywhere in the continental USA.
For a free RV Moving quote please call us at 800-462-0038 or fill out our quote form by clicking here.
We cover all states listed here
Want us to call you?